-> Company-> History of the Niemetz Group
Company history of the Niemetz Group
The history of the Niemetz company began in 1946, shortly after the chaos of the Second World War. Locksmith Paul Niemetz married local girl Laura Böhlein and started repairing agricultural machinery and doing other lock and forging work.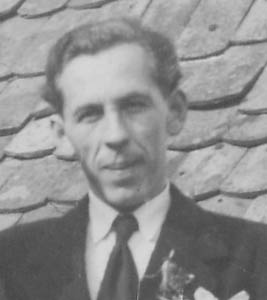 Company founder Paul Niemetz (1917-1972)
Following the death of the company founder in 1972, the company was taken over by Hermann Niemetz. An 80 m2 workshop was added to the house and production was mainly geared toward the processing of extruded aluminium profiles.
The company continued to expand by manufacturing windows, doors and gates made from the aluminium. A year later, a new 600 m2 building was necessary at today's Hollfelder Street location.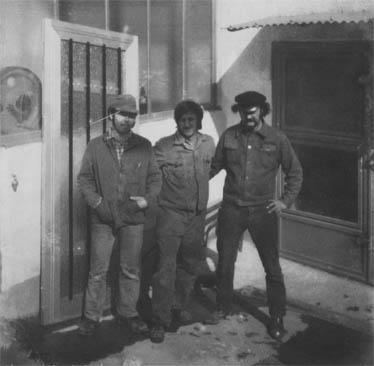 First employees with finished aluminium house door
Years of internal manoeuvring problems with long goods prompted the development of the four-way lift truck, the 'Transportmaus'. An overwhelming response at the CEMAT trade fair in Hannover in 1994 confirmed that another source of income had been established.
Upon completion of his apprenticeship as a mechanical engineer/mechanic, Markus Niemetz joined the company in 1995. Mechanical engineer Alexander Niemetz also joined the family business in 2000 after successfully completing his studies.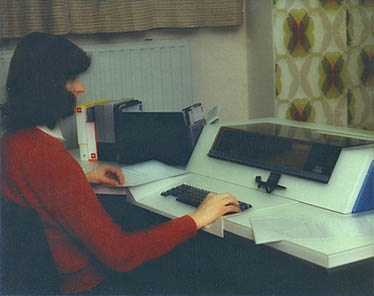 First computer system in the 1970s
Today's senior partner Hermann Niemetz was born in the same year. Until 1971 the company had been run as a one-man operation. On top of running a petrol station and a taxi company, all conceivable locksmith work was also carried out. The product range included steel doors, gates, railings, balconies, eaves, etc.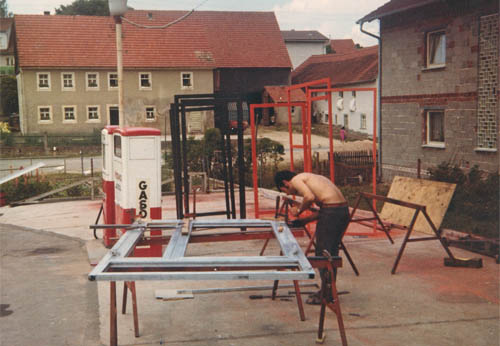 Petrol station at Schulstraße 1
At the end of the 1970s the company was focused on industrial doors. After just five years, the company's successful presence at trade fairs made another expansion necessary. A second building with a 600 m2 footprint was built in 1978.
1984 saw the beginning of the production of panels developed in-house for door manufacture. Another expansion was built to accommodate the production line required.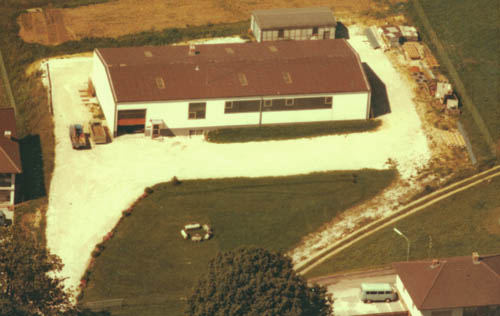 New construction at Hollfelder Straße 11
A further milestone was reached in 2005 with the completion of the new production line for panels and the development of a new garage door system. All of our production expertise came together in 2008 the development of our latest product line, the 'Solarpan' profiled metal sheet
The company premises have been a hive of construction activity since 2010. The building complex was expanded again by another 2100 m2. A new warehouse and new office and showroom building were erected. The company moved over to future-oriented energies, featuring new woodchip heating and an over 400 kW photovoltaic system.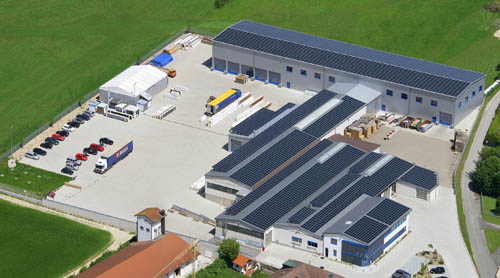 Company headquarters in Königsfeld (in 2013)
Senior partner Hermann Niemetz has been progressively scaling back since 2011 and has turned over the management of the company to Alexander and Markus Niemetz.
Our employees (Sept 2013)