-> Door technology-> Garage doors
Garage doors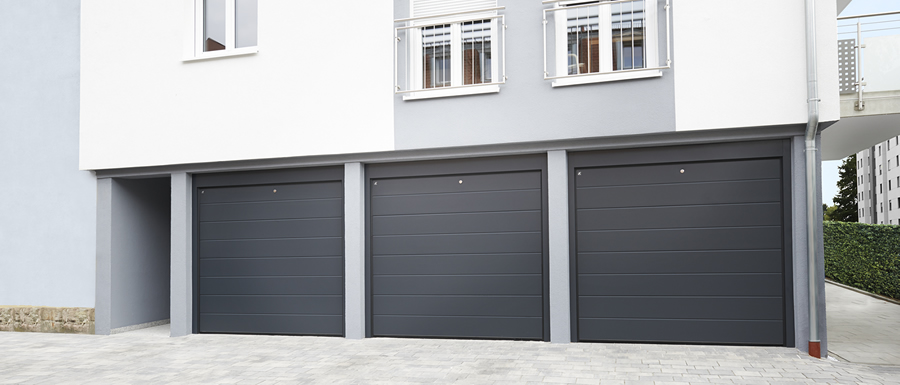 More than ever, garage doors have become a design element for every house. A customised look can make your a real eye catcher.
Not only do sectional doors from NIEMETZ look good but the superior quality will meet your highest expectations.
Take advantage of our years of experience, the qualifications of our entire team and the variety of production options that help us create customised solutions.
Space-saving
Thanks to their special design, sectional doors are the most space-saving of all garage doors. The space directly in front of and behind the door can be used completely, which is a great advantage especially with short driveways or garages that open directly onto the pavement. With sectional doors, the maximum drive-through width is maintained because the major components are hidden on the ceiling.
Perfect fit
Flexibility is our byword. Niemetz sectional doors can be adapted to site requirements to within a centimetre.
Exclusive and unusual solutions are also possible at any time - and there are no long waiting times for delivery.
Perfectly sealed
Rubber seals around the perimeter ensure that neither dust nor cold air can penetrate into the garage. Your vehicle is thus perfectly protected.
Individuality Made in Germany
Regardless of the design you choose, the high quality surfaces of our doors provide your door with the best possible protection against external influences, giving you lasting enjoyment of our products.
Choose from a wide range of designs ->
Safety first!
In addition to specified standards, Niemetz sectional doors also meet additional safety requirements.
It goes without saying that personal safety such as protection against finger trapping and a spring break safety device are priorities. But your property must also be safe from break-ins.
More on safety ->
Welcome home
Isn't it a wonderful feeling to come home after a stressful day at work? And if the comfort of home already kicks in when you drive into the garage, it's a doubly wonderful feeling, especially when it's windy and the weather isn't the best.
More information on comfort ->
A little bit more?
And to round off the overall package for your door, there are still a number of additional options to choose from. Regardless of whether you want more light or an aesthetic improvement, we offer solutions for virtually every requirement.
More about options ->
Hardware versions
Choose the best hardware for your installation situation. In addition to the standard headroom version we also offer versions for low headroom, ventilation and versions with tension springs.
More information on s hardware versions ->